Roaming Rome
Like Florence, I was initially unsure on how I felt about Rome.
My first impression was that it just seemed ok. After reviewing our time there, however, I realized Rome didn't really get a fair chance. It was one of our last stops on our 2 week trip so we were pretty exhausted and starting to drag, we arrived late and had to leave early, and the 2 days we allotted ourselves to explore had us barely skimming the surface of all that the city had to offer. We also switched our Rome dates at the last minute, meaning some of the tours we wanted to do were already booked up. All that aside, we had some incredible food (legit the best bruschetta of my life, thanks MK!), the temperature was perfectly warm and you really can't beat the magic of seeing ancient places in person that you'd only ever previously read about in history and religion books. In short, Rome needs more than 2 days for a visit.
It's easier than ever to get to Rome, with direct flights from major cities like NYC and Los Angeles. However, since we were on an Italian tour and it was just one of our many stops, we just took the train. Originally, we had hoped to drive so as to check out the country side and some attractions outside of the city, but to be totally honest, I'm really glad we didn't have a car as traffic looked like a nightmare and parking seemed pretty scarce.
Our Airbnb in Rome was a great space, overall, and depending on what you're looking for it just may be the perfect spot for your stay in Rome. It's close to the train station (about a 10 minute walk) but it is far from many of the tourist attractions. The metro station is also located in the train station so it's easy to get to and easy to navigate and the ride into the center of the city is inexpensive and relatively short, but it is something to keep in mind.
The neighborhood itself may at first appear to bit a bit sketchy (especially if you get in at night, like we did), but it actually reminded us very much of some up and coming neighborhoods here in NYC. It was quiet, in that sense that there weren't a lot of tourists, and the majority of people we saw walking around seemed to be about our age or younger. There were plenty of little restaurants, wine bars, a convience store, and even a juice bar/fruit stand right by the apartment. The Airbnb itself was clean and actually could have slept up to 6 people (something we didn't realize when we booked the place), so if you're traveling with a group, if you're looking for something more affordable (since everything in the center of the city is almost double the price), or if you're looking for something a bit off the beaten path to stay in, definitely check this place out. If tourist attractions is the name of your game, I'd suggest looking elsewhere.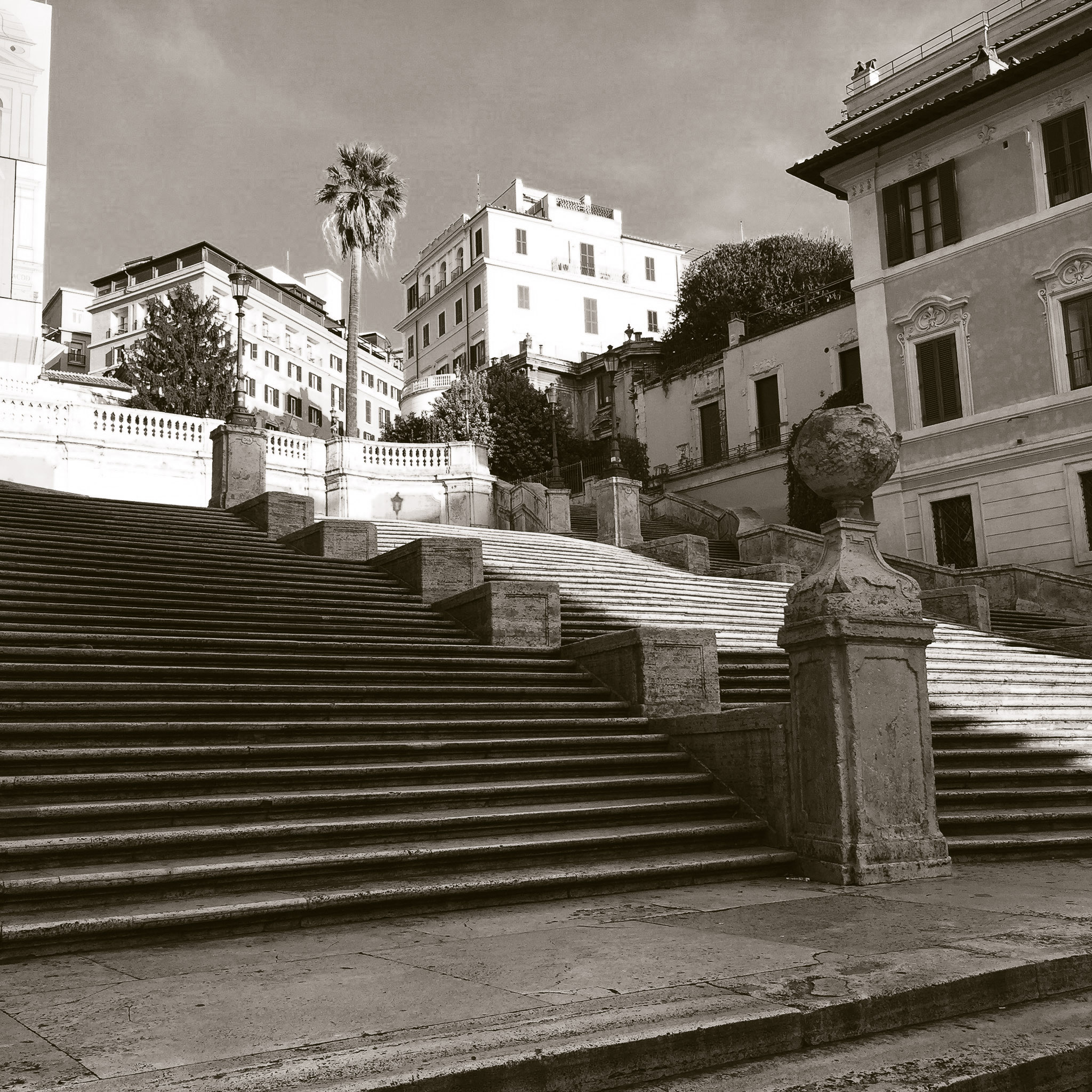 We hit all of the big attractions in one day. I've mentioned it a million times...we aren't big into tourist attractions, but when we're in a new city and said attractions are hundreds of years old/kind of a big deal, we make an exception. Since our time in Rome was so short, we spent most of it being "tourists" (I cringe just admitting that). Never the less, here are the spots we checked out. We did all of these in one day, we didn't stop for any specific tours, we only braked for food (duh!), and some of the spots we were only in for a minute or two just to grab a picture. I've listed everything in the order that we did it, so if you too have a short amount of time (or just want to get through everything quickly) you can see it all in the most efficient manner. And yes, this was all done walking.
We started with lunch then headed out to...
Visit Vatican City //
Like I mentioned above, we changed our Rome dates around too late to get into any Vatican tours. However, the priest we sat next to at lunch (who was from KY and had been studying at the Vatican) gave us a little tip on how to get in to certain tours. If you're truly interested from a religious/historical aspect, not just a I'm-a-tourist-at-the-Vatican-so-I'm-taking-alllll-the-pictures, email me (alyssa@runwaychef.com) and I'll share the knowledge with you. Also fun to do here- mail a letter/post card from the Vatican post office. If you're facing the Vatican, you'll see it on the left hand side.
Check out the Spanish Steps //
So.many.people! And closed for cleaning, which means the steps were clear for photos, but, obviously, we weren't able to walk up them.
See Trevi Fountain //
I repeat...so.many.people! Also, as seemed to the case with everything in Rome, it was closed for cleaning while we were there so we only got to see it, sans water, through the fence. Sad face.
Walk by the Roman Forum //
so pretty at sunset/dusk
Finish at the Colosseum //
you won't be able to go inside, but it's really beautiful from the outside at night
Now go drink some wine....you deserve it after all that walking!
The best gelato I had our entire trip (and trust me, I ate a LOT of gelato!). Thought they have a very efficient process and lots of people working, just be prepared for a bit of a line/wait.
An unassuming little spot right by the Vatican; MK insisted we go here for life changing bruschetta and I'm so glad I listed to her because it truly was life changing. The bruschetta was absolutely insanely delicious and unlike anything I'd ever had before (FYI, it's more than enough for two people to split for lunch). The restaurant was run by this little old couple, who, in true Italian form, seemed to bicker back and forth about who was taking orders, cleaning tables, etc. We ended up sitting next to a couple from Kentucky and a priest from their diocese who happened to be studying in Rome. Of course, we struck up a great conversation with all of them, making lunch even more enjoyable. They said they had been coming to Rome for years and this restaurant was always their first stop off the plane (in fact, they had actually just come from the plane that day). They said you never quite know what you'll be getting on the bruschetta (it changes all the time) and the price is always different, but it's always amazing. And truly it was. I mean, I didn't think it was possible to dream about bruschetta on a daily basis, but now I know that it is, in fact, a very real thing. If there is one recommendation that you take from me, please let it be this one. You will not regret it.
Update 8/2019: From a recent Yelp search it appears that this place is no longer in business ;( I have not confirmed in person, but wanted to give a heads up, just in case it is in fact true.
If there is one Italian city to be comfortable in, Rome is it. It's hot (even in the fall), you will do a TON of walking, and, it's somewhat spread out, so you'll be going the distance. My booties were super comfortable but I'd recommend some great sneakers, definitely an outfit of moveable, breathable pieces (like cotton or linen for warmer weather or wool for the cooler months), and a hands-free bag. The sweater dress I wore was warm for the cooler mornings but comfortable enough for the long of walking and exploring. However, I definitely would have ditched he hat had I had the chance. Even in October I was sweating up a storm wearing it. One more thing to note- if you plan to go on certain tours, specifically at the Vatican, double check the dress code as you do have to be more covered up when visiting certain areas.
For full outfit details, check out this post.
*Rome reminded me of New York with the amount of people and tourists, so just plain strolling around is a bit more of a challenge, unless you're outside the city center, so make sure you have a plan and a map/Google maps on your phone and get familiar with where you need to go.
*Check dress codes of certain attractions beforehand so you don't show up somewhere, ticket purchased, and then find out you aren't allowed in.
*Check closures of points of interest (see the Trevi Fountain and Spanish Steps, above).
*my biggest tip, which I also mentioned in my Florence guide, is if you want good photos without lots of people, you MUST go really early or really late.