Campfire Cookies in a Jar
And the camp fire/cabin/cozy/woodsy vibes continue on. I'm telling you guys, I just can't seem to quit them! Is it still acceptable to keep blaming our trip to Canada?!
These campfire cookies in a jar are hearty, chewy, slightly crispy, slightly gooey and loaded with goodies. Hello dream cookie. Except these aren't a dream. These are the real deal. But it gets even better. Not only are these reminiscent of campfire flavors (think s'mores and smoked nuts), these also happen to be loaded with dried fruit (Hi, serving of fruit!), oats (Whole grains anyone?) and nuts (So much protein!). I mean, these are basically a vitamin. Talk about a dream cookie…
These cookies are literally so good, I almost want to skip the whole putting them in a jar thing and just straight up bake them. But then again, I guess that kind of defeats the whole cookies-in-a-jar gift, doesn't it? My solution? Make two batches, one to keep and one to give (in the jar, obvs). It's a pretty solid decision and one I know you'll be happy with.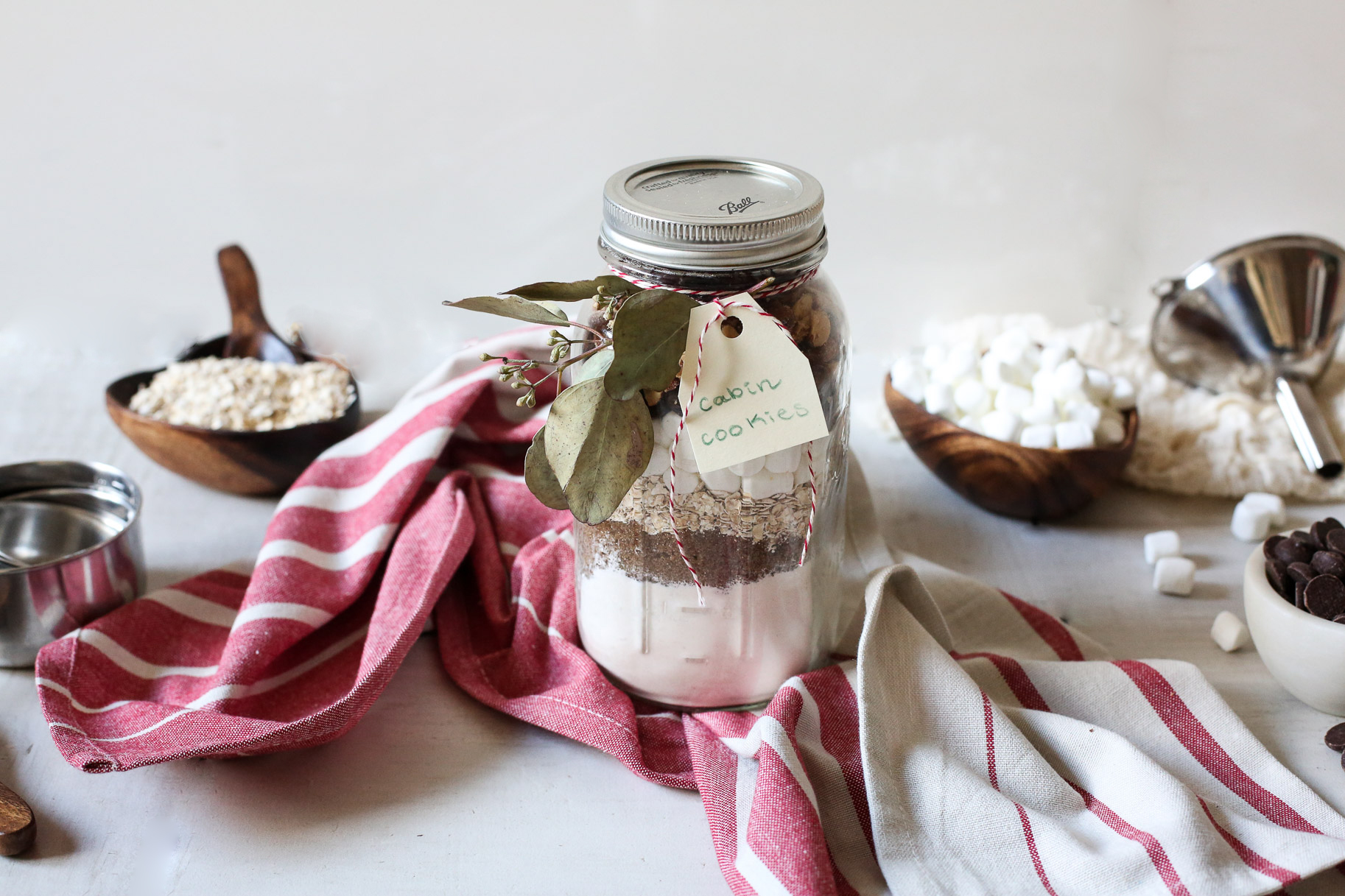 CAMPFIRE COOKIES IN A JAR
INGREDIENTS
TO LAYER IN THE JAR
1 ¼ cup all-purpose flour

1 teaspoon baking powder

1 teaspoon baking soda

1 teaspoon cornstarch

¼ teaspoon salt

1 cup brown sugar

¾ cups quick-cook oats

1 cup mini marshmallows

½ cup each smokey roasted almonds (or other nut), dark chocolate chips and dried cherries
TO MAKE THE COOKIES
½ cup unsalted butter, softened to room temperature

1 egg

1 teaspoon vanilla
INSTRUCTIONS
In a large quart-sized mason jar, layer the ingredients from top to bottom, starting with flour and ending with the cherries (you may have to use a spoon to lightly press ingredients into the jar (specifically the marshmallows) to ensure you have enough room). Once everything is in, place the lid on and store until you're ready to bake the cookies, or make the jar look all fancy schmancy and gift it away (which is easier said than done when something is as delicious as these cookies are).

To make the cookies, preheat the oven to 350 degrees. Line a baking sheet with a silpat mat and set aside.

In the bowl of a stand mixer, cream together the butter, egg and vanilla on medium speed until fluffy, about 2-3 minutes.

Add in the contents of the jar and mix everything together by hand.

Form the dough into balls (I did about 2 tablespoons of dough per ball) and place them on the baking sheet, about 2 inches apart.

Bake for 10-12 minutes, or until the edges are slightly browned and crispy. Remove to a baking rack and allow to cool before indulging in one…or two…or three. Store any leftovers in an airtight container.