Yogurt Cookies
It doesn't matter if it's bikini season or snow suit season, my cookie cravings never change. I do, however, err on the side of lighter cookies (is that even possible with baked goods?!) once the temps get warmer. These yogurt cookies fit the bill perfectly. They're super light and moist and bite-sized so you can reach for them again and again and again and not feel too guilty. Like a honing beam, I like to zero in on the large amount of Greek yogurt that these cookies also contain. I'm all like "What butter? What sugar?? Helloooo protein and calcium packed yogurt!". So in my mind, these cookies are also healthy (totally not, but whatevs).
These cookies are also special because they remind me of someone who is very important, my younger brother. Many of you don't know this, but I have a brother who is significantly younger than I am. He's a super smart and insanely talented guy. When he came into the world, in typical teenage girl antics, I remember being infuriated with him for "stealing my birthday" (our birthdays are only 8 days apart). I mean, who did he think he was, raining on my parade like that?? Eventually I warmed up to him (his cute baby antics helped) when I realized his birth equalled the entire state of Indiana bringing us meals (meals that included unhealthy items that were usually off-limits). Long story short, these cookies are one of the things that a family friend brought us, and they were so good, we haven't stopped making them since. They're one of my favorites and every time I make them I can't help but think of my little brother. Give up my birthday in exchange for these cookies? Oh yeah, and a little brother?? Yeah, I guess that's ok ;)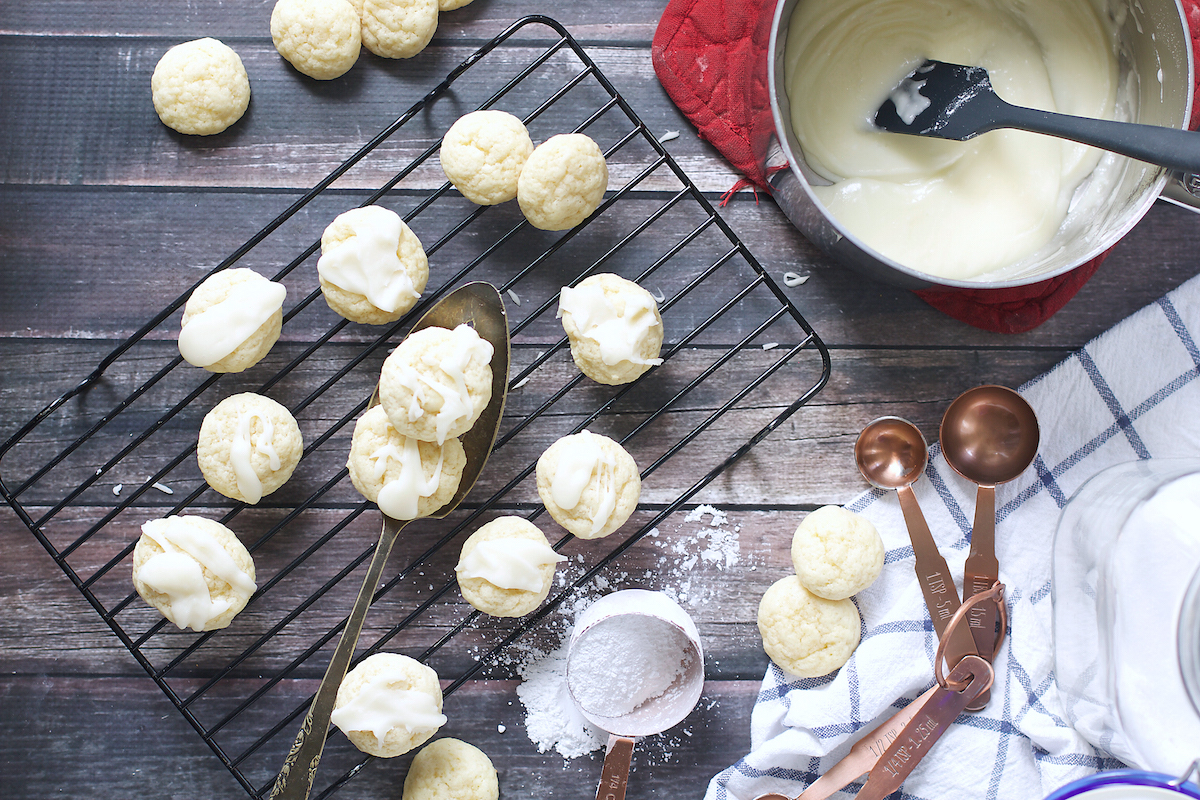 INGREDIENTS
COOKIES
1/2 cup unsalted butter, softened

1 cup, minus 2 tablespoons, granulated sugar

1 egg

1/2 teaspoon baking soda

1/2 teaspoon salt

2 cups all-purpose flour

1/2 cup Greek yogurt

1 teaspoon vanilla
ICING
1/4 cup butter

1 cup powdered sugar

1/2 teaspoon salt

Hot water
INSTRUCTIONS
Preheat oven to 350 degrees.

In a medium bowl, sift together the flour, baking soda, and salt. Set aside.

In the bowl of a stand-mixer, on medium speed, cream butter and sugar together until soft and fluffy, 2-3 minutes.

Add the egg, then beat for another minute. Add the vanilla and beat just until combined.

With the mixer running on low speed, alternate between adding the yogurt and the dry ingredients until everything is mixed together.

Drop by rounded teaspoonful onto a greased or parchment/Silpat mat lined baking sheet, spacing them about 2 inches apart.

Bake for 8-10 minutes, or just until the edges turn slightly brown. Remove from the oven, cool on the tray for about 5 minutes, then remove the cookies to a cooling rack.

Once the cookies are completely cool, make the frosting. In a small saucepan, set over low heat, melt the better. Add the powdered sugar and vanilla and stir until there are no lumps. Next, start adding hot water, a few drops at a time, until the icing reaches spreading consistency. Frost the cookies immediately as the frosting will quickly begin to harden. If the icing does become too hard, simply reheat it for a minute or two over low heat.

Store cookies in an airtight container for 4-5 days.
NOTES
Feel free to use sour cream (what the original recipe calls for) or regular yogurt in place of the Greek yogurt.

I typically only need half of the original icing recipe to frost the entire batch of cookies, so that is all I gave you, but if you need more, make another batch.

These cookies are a great all-purpose cookie as you can add food coloring to the frosting or sprinkles on top to make them appropriate for different themes.