SPICY MUSSELS WITH PEACHES & ROSÉ
Nothing says summer quite like dining on seafood al fresco. Sunshine on your face, rosé in your glass, seafood on your plate…it's a combo you can't go wrong with. No beach is even necessary (but, in a dream world, probably preferred). Whether it's a backyard or rooftop, beach or park, there's no excuse not to dine outside more in the summertime. It's a nice switch from eating indoors and a little extra fresh air and vitamin D never hurt anybody. And al fresco dining with friends? Easiest summertime entertaining ever!
When it comes to the actual food, mussels are one of my favorite things to eat in the summer and somehow they taste even better served outside. As far as seafood goes, they're relatively simple to prepare and serve and they're usually pretty affordable (both things that aren't always the case with seafood). Plus, they're easy to buy and cook in bulk, making them ideal for serving a group. I recently decided to make mussels with a few of my other summertime favorites, peaches and rosé. The resulting dish is one that is sweet and light with just a little spice. The sausage makes for a heartier meal without compromising the lightness of the overall dish, and the peaches are a nice, sweet switch from the tomatoes that mussels are usually served with. It's a simple but impactful meal that needs nothing more than a crusty bread, good company and a bottle of rosé (or two) to finish it off.
Since al fresco meals are going from the kitchen to the outdoors, I always put on emphasis on making things that are easily transportable aka one dish or one pan meals. Trust me, nothing takes the fun out of eating outside like having to lug dishes and glasses and 5 different serving pans and silverware and all that jazz. We'd actually been in the market for some new cookware for a while, so when Lagostina reached out about their new Luminosa stainless steel set, I was intrigued to check it out. Their emphasis is on stove-to-table cooking, aka that means with these spicy mussels, the only thing you're lugging out to the table is one pan and a big ol' appetite.
Before wI even tried the Lagostina pans, another thing I was immediately drawn to was the fact that the pans are both stove AND oven safe (up to 500 F), as well as dishwasher safe, all important things for a cook with a busy life. As soon as I unwrapped the pans from the box, my impressiveness only grew as I realized how durable and sturdy each piece is. Even the handles are riveted on for extra durability and the beautifully designed hammered stainless steel lids are clearly built to last a lifetime. I was seriously impressed and I hadn't even put one on a burner yet. But let me tell you, once I did, I was legit blown away with excitement. Big grin on my face, dancing around the kitchen…basically, I felt like it was my birthday. I normally try to keep weekday meals to one or two pans to prevent a big clean-up, but all of the sudden I was finding an excuse to use every.single. pan (Yup, all 11 of them…the Mr. wasn't too thrilled until I reminded him that they're dishwasher safe, then he was all like "Oh you need to melt 1 tablespoon of butter? Sure, use that little saucepan!). Since the pans have a 3-ply bonded base, they heat evenly for better cooking (and that means they're also induction compatible) and, since the cooking surface of the pans is made from a premium grade stainless steel, the flavor of the food stays pure and true aka it tastes exactly how it's supposed to aka delicious.
Basically, I couldn't help but wonder where these pans had been all my life. If you're wondering the same thing, you're in luck, because this incredible reasonably priced set is available at Bed Bath & Beyond. And, even luckier for you, I'm also giving a piece from the collection away over on my Instagram today. Head on over to get yourself entered and on your way to a summer of alfresco dining faster than you can say seafood!
What's your favorite dish to dine on al fresco?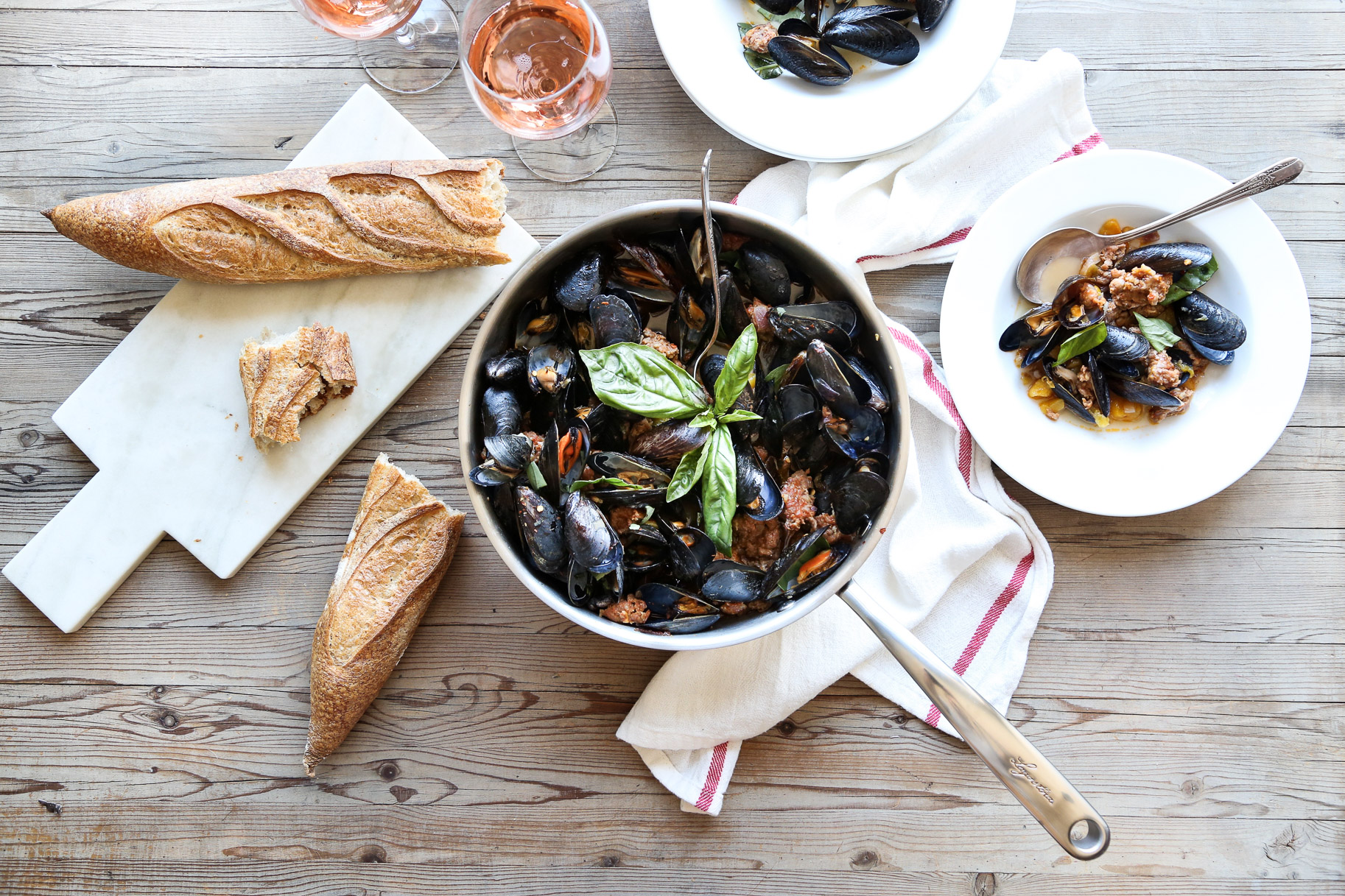 SPICY MUSSELS WITH PEACHES & ROSÉ
INGREDIENTS
2 tablespoons butter

2 tablespoons olive oil

1 small red onion, diced

3 cloves garlic, minced

¼ teaspoon crushed red pepper (+ more for garnish, if desired)

2 hot sausages, removed from the casings (approximately ½ a pound)

1 cup chicken broth

1 cup rosé (you can also use rosé prosecco)

1 large peach, diced

2 pounds fresh mussels

Fresh basil, for garnish

Fresh crusty bread, for serving
INSTRUCTIONS
In a large skillet, set over medium heat, heat the butter and olive oil until the butter has melted. Toss in the onion, garlic and red pepper flakes and sauté for a few minutes, or until the onions begin to appear translucent. Crumble in the sausage meat and continue cooking, stirring every few minutes, until the meat is fully cooked.

Stir in the chicken broth and rosé, along with the peaches. Lastly, add in the mussels, stir to combine, then cover and cook for 6 minutes. Remove the lid, stir again and cook for another 2 minutes.

Sprinkle with fresh basil and serve immediately with plenty of crusty bread (and more rosé, of course)! The mussels won't keep well as leftovers, so invite a few friends over for a night of al fresco dining and let no mussel go to waste!
Thank you to Lagostina for sponsoring today's post. As always, all opinions are my own.