Swiss Chard + White Bean Salad
When it comes to summer barbecues, I'm all for a big ol' helping of potato salad or pasta salad. I mean, is it really even a barbecue without one of those?! But as with most things, it's fun to occasionally color outside the lines, or, in this case, mix things up outside the salad bowl. When it comes to produce, we have our typical standbys, but this summer, we're doing our best to incorporate more variety with things such as swiss chard and brocollini. While Mr. RC and I are both big fans of swiss chard, sautéing it with olive oil, garlic and salt was about the extent of our use of it. After picking up a big bunch of it at the market last week, I was determined to figure out a new way to cook it up. We found a recipe to use the leaves, but then we were stuck with the rhubarb-like stems. Not wanting to waste any part of a healthy and beautiful vegetable, I put my creative thinking cap on and got to work in the kitchen. A can of white beans, some bacon and a few seasonings later, this simple salad was born. Technically, there isn't really a dressing, so technically this isn't a salad. But, technicalities aside (because names don't really matter, do they?!), know that this is one delicious dish, and when it comes food, well, that's all that really matters.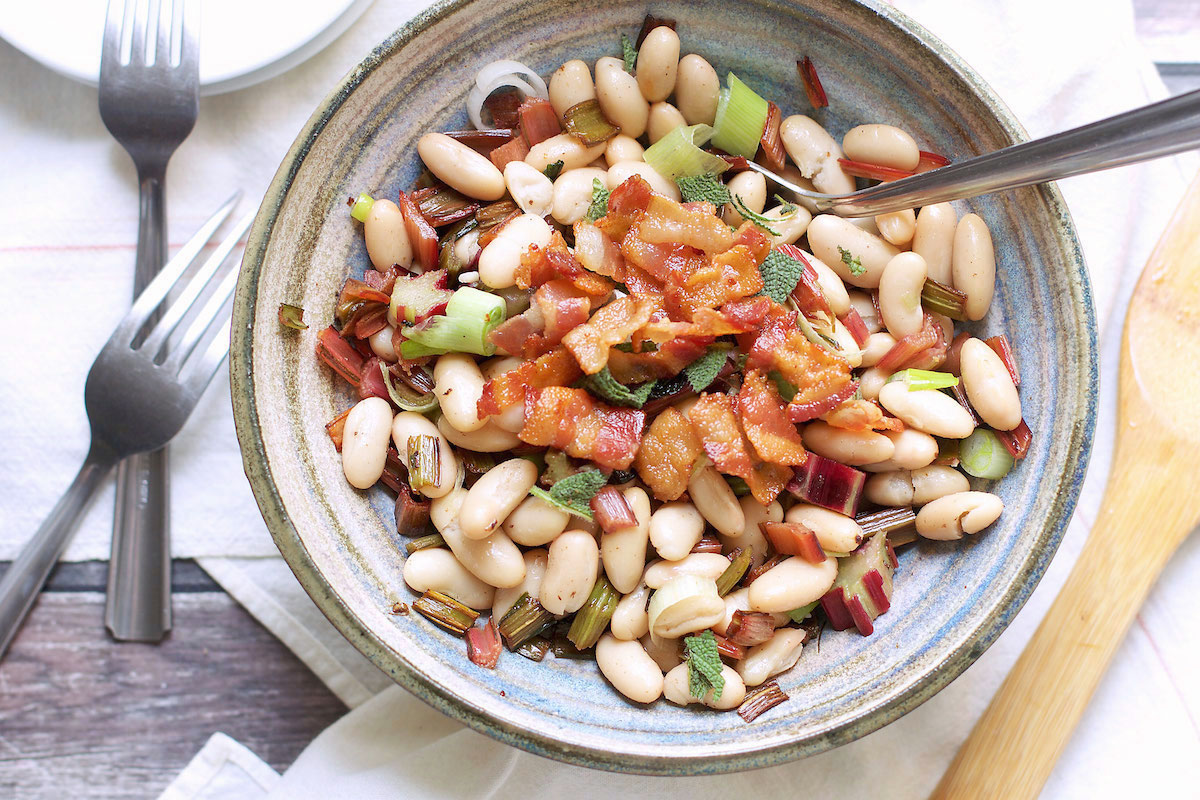 SWISS CHARD + WHITE BEAN SALAD
INGREDIENTS
1 large bunch of swiss chard stalks, cleaned and chopped up
1 can white kidney beans
2 slices of thick bacon, chopped
1 green onion, chopped
A handful of sage, chopped (should equal about a 1/4 cup)
Salt and pepper, to taste
INSTRUCTIONS
In a medium-sized skillet, cook the bacon over medium heat until it is brown and crispy, about 10 minutes.

Remove the bacon from the pan, leaving behind the bacon fat. Toss in the swiss chard and sauté until cooked through and tender, about 10-12 minutes.

In a serving bowl, add the beans, green onion and sage. Once the swiss chard is cooked, add that in and then toss everything together. Season with salt and pepper and then top with the bacon pieces before serving immediately.
NOTES
This salad is gluten-free. To make it vegetarian and vegan, omit the bacon.

This salad is best served warm, right after it is prepared. Leftovers can be stored in an airtight container in the fridge for up 2-3 days (although the bacon will get soggy).