Sweet Potato Tater Tot Nachos
I know we went over this last week, but for those of you who need a little refresher, my version of the Super Bowl revolves around one thing and one thing only- food. And lots of it! In summary, my super bowl is far better than that other version. So now that we're all up to speed on that, let's face plant into these nachos, shall we? I mean, let's not fool anyone. We all know that's what you're thinking about doing. Heck, I know I am. Crispy tater tots, melted cheese, a crunchy salsa, and not one, but two, types of creamy sauce, all with a little southwestern flair (in honor of some game they're having in Arizona on Sunday). If that doesn't have face plant written all over it, I don't know what does!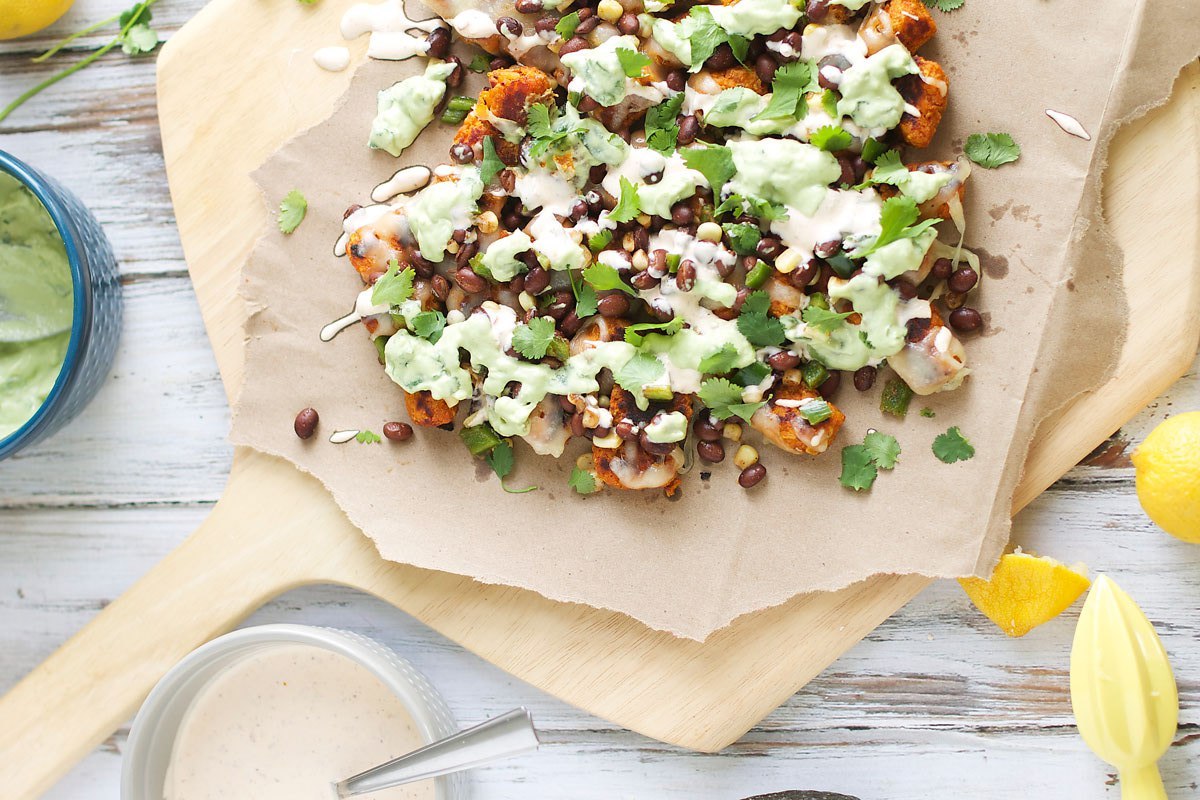 SWEET POTATO TATER TOT NACHOS
INGREDIENTS
2 pounds sweet potato tater tots (I use 2 of the bags from Trader Joe's)

Olive oil or cooking spray

1 cup grated monterey cheese
BEAN SALSA
1/2 cup corn (fresh, canned or frozen, just make sure it's drained)

1 15-ounce can black beans

1 teaspoon Southwest seasoning

2 jalapeños, chopped and seeds removed

The juice of half a lemon

1/4 teaspoon salt
CHIPOTLE CREAM
1 cup Greek yogurt

2 tablespoons mayonnaise

2 1/2 tablespoons chipotle mustard
AVOCADO CREAM
1 avocado

The juice of half of a lemon

1/4 cup cilantro, finely chopped

1 tablespoon mayonnaise

1 tablespoon Greek yogurt

1/2 teaspoon salt
INSTRUCTIONS
Preheat your oven to 400 degrees. In a large bowl toss your tater tots in about 2 tablespoons of oil until they are evenly coated. Spread them out evenly on a metal baking sheet (do not line it with foil as the foil won't allow them to get nice and crispy). Alternately, instead of tossing the tater tots in oil, spray your baking sheet with cooking spray before spreading the tater tots out. Proceed to bake your tater tots for 15 minutes. Flip them over then bake for another 20 minutes, or until crispy.

While the tater tots are cooking, whip up your toppings. To make the bean salsa, toss the corn, beans, jalapeños, lemon juice and seasonings in a medium bowl. Stir to combine. Refrigerate until you are ready to use.

To make the Chipotle cream, combine the yogurt, mayo, and chipotle mustard in a small bowl and stir until well combined. Refrigerate until ready to use.

Lastly, make your avocado cream. In a small bowl (or a mortar and pestle) mash together the avocado, lemon juice, yogurt, mayo, cilantro, and salt until smooth and creamy. Refrigerate until ready to use.

Once your tater tots are baked and crispy, top them with the cheese and put them back in the oven for about 5 minutes, or until the cheese has melted (I made sure to push the tater tots close together to prevent losing any cheese).

Transfer the tater tots to your serving dish (I ripped up a paper grocery bag and used that along with a wooden pizza board). Top them with the bean salsa. Drizzle with the two creams and finish with extra cilantro (if desired). Serve immediately.
NOTES
These nachos are vegetarian.

The bean salsa and cream toppings can be made ahead and store in the refrigerator, although for the best flavor, I would recommend making the cream sauces no more than 1 day ahead and the bean salsa no more than 2 days ahead.

If you'd like to add meat, I would recommend doing chicken or pulled pork.

Feel free to use regular tater tots in place of the sweet potato ones, cheddar cheese in place of the monterey cheese, chili powder and cumin (or another seasoning mix) in place of the Southwest seasoning mix, and regular chipotle peppers in place of the chipotle mustard.