Stuffed Funfetti Donuts
The day has finally arrived. The day where you no longer have to hear me talking about my birthday because....it is MY BIRTHDAY! To celebrate, I decided to take my funfetti obsession and turn it into something new and fun. Hence, this fluffy cream filled delicious golden pocket of sprinkled goodness (say that 10 times fast!) aka stuffed funfetti donuts. I have also decided that if you give me a present, I may give you a donut. I say 'may' because the likelihood that any of these donuts will be left is pretty much a big fat zero. I mean it is my birthday so eating 8 donuts is totally acceptable. So is drinking champagne at 9am (yes, even on a Tuesday), taking a nap at 3pm, and possibly staying in my pajamas until dinner. And you can't judge me, because it's my birthday! (If I try to get away with this again on Wednesday then I give you my full permission to get all judgmental on me.)
So let's face reality- since I'm going to be eating all the funfetti donuts, how about I give you the next best thing? The recipe. I know you have to actually mix the dough, then roll it out, then wait for 20 birthdays and a day for everything to rise, but these are so yummy you'll forget all about how you gave me a present and I couldn't even give you a single bite of donut in return....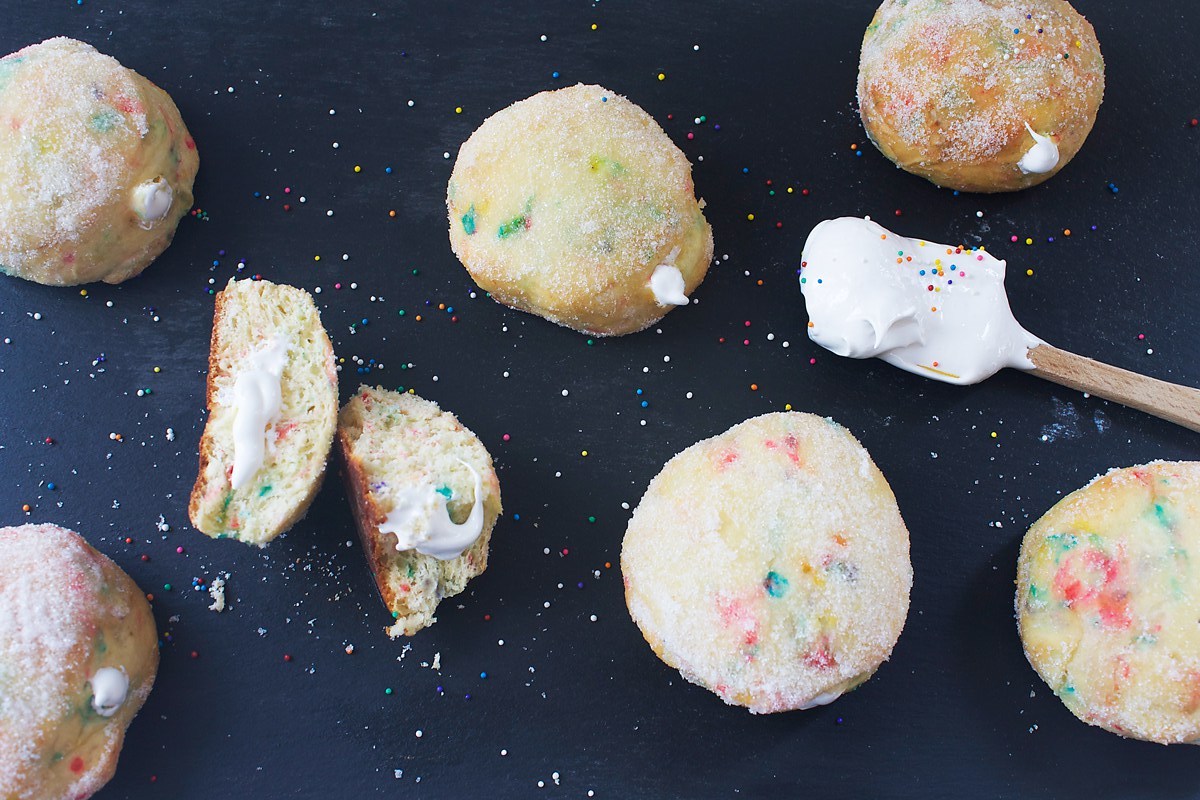 INGREDIENTS
DONUTS
1 cup plus 3 tablespoons all-purpose flour
1 1/4 teaspoons instant dry yeast
3 tablespoons granulated sugar
1/4 teaspoon salt
1 large egg
2 1/2 tablespoons unsalted butter
1/3 cups milk (any fat percentage will do, although I use whole or 2%)
2 tablespoons sprinkles
Extra melted butter (for brushing onto the baked doughnuts)
Extra granulated sugar (for rolling the baked doughnuts in)
FILLING
3/4 cups granulated sugar
1 tablespoon light corn syrup
3 large egg whites
1/2 teaspoon vanilla
INSTRUCTIONS
TO MAKE THE DONUTS
In the bowl of an electric mixer, with the dough hook attached, add the flour, yeast, sugar, salt, and eggs. Mix for 30 seconds.
In a medium-sized saucepan, heat the milk and butter to just until it begins to bubble and boil. Remove from the heat.
With the mixer running on low speed, begin adding the milk mixture.
Continue mixing for about 5 minutes, or until you have a batter that is sticky and stretchy (FYI, it won't look anything like bread dough).
Cover the bowl with a warm towel (I soak mine in hot water than wring it out before using it) or plastic wrap and allow to rise in a warm place for about 1 hour, or until doubled in size.
Once the dough has risen, remove it from the bowl (with well-floured hands) and place it on a well-floured surface. Knead for about 30 seconds, or until it becomes less sticky and more manageable.
Flatten the dough out, then toss on the sprinkles. Use the palm of your hand to slightly press them into the dough, then begin folding the dough over, slightly kneading it. Just make sure not to over-knead.
Pat the dough out to about a 1/2 inch thickness.
Cut out the doughnuts with a 2-2 1/2 inch biscuit cutter and place the rounds on a silpat mat or parchment paper lined baking sheet, about 1 1/2 inches apart.
Again, cover with a warm towel or plastic wrap and let rise in a warm place until doubled in size, about 1 hour.
When they are ready to bake, preheat your oven to 350 degrees. Bake for 10-12 minutes, or until they are puffed and lightly golden brown.
Once they are baked, brush each doughnut with melted butter then toss in granulated sugar. Cool completely before filling.
TO MAKE THE FILLING
In the heatproof bowl of an electric mixer set over a saucepan of simmering water, combine the sugar, corn syrup, 2 tablespoons of water, and the egg whites. Cook over medium heat, stirring frequently, until mixture heats up to 160 degrees on a cooking thermometer (this should take about 2 minutes).
Attach the bowl to a mixer fitted with the whisk attachment. Beat on high speed until glossy, stiff peaks form (about 5 minutes). Add the vanilla, then beat for about 30 seconds longer.
TO FILL THE DONUTS
You will need a pastry bag and a large pastry tip (I used Wilton's Bismark Tip #230; see the widget below this post for links to shop these supplies). Add about 1 cup of the filling to the bag. Working from the side of the donut, insert the pastry tip. Simultaneously begin squeezing in the filling while pulling the pastry tip out (an extra pair of hands comes in handy with this step). Continue until you have filled all the donuts.
Serve immediately. These will last up to two days in an air-tight container, but they definitely taste the best on the first day.
NOTES
The donuts and filling can be made the day before then filled right before serving, though they won't taste as fresh.
Extra filling can be stored in the refrigerator in an air-tight container for up to 3 days. It's basically marshmallow fluff, so pull out the bread and peanut butter and make yourself a yummy sandwich while you're at it!