Roasted Beets + Fennel
While I love coming up with ridiculous and outrageously delicious concoctions in the kitchen, I equally find just as much comfort in the simplicity of dishes with only a few fresh ingredients. Some might say I'm as indecisive about what I like in the kitchen as I am about what I like in life, but I prefer to call myself an equal opportunist, giving every dish and ingredient a chance to shine.
Recently, I gave beets and fennels a chance to shine in a winning combination that was so simple I almost felt silly calling it a recipe. But never the less, here I am sharing it, because when something is as good as it is easy to make, the only right thing to do is to put it out into the world.
Since we're heading into the last leg of the winter vegetable season, it's the perfect dish to help you get in your fill of root veggies. It's perfect for a light lunch or dinner, served alongside quinoa or rice, or, it can be an addition to a heartier meal, such as fish, chicken or steak. You can also make it with golden beets and serve it up as a pretty spring dish for Easter (side note- how is Easter already this Sunday?!). So simple, yet so many options. After all, they don't say simple is best for no reason...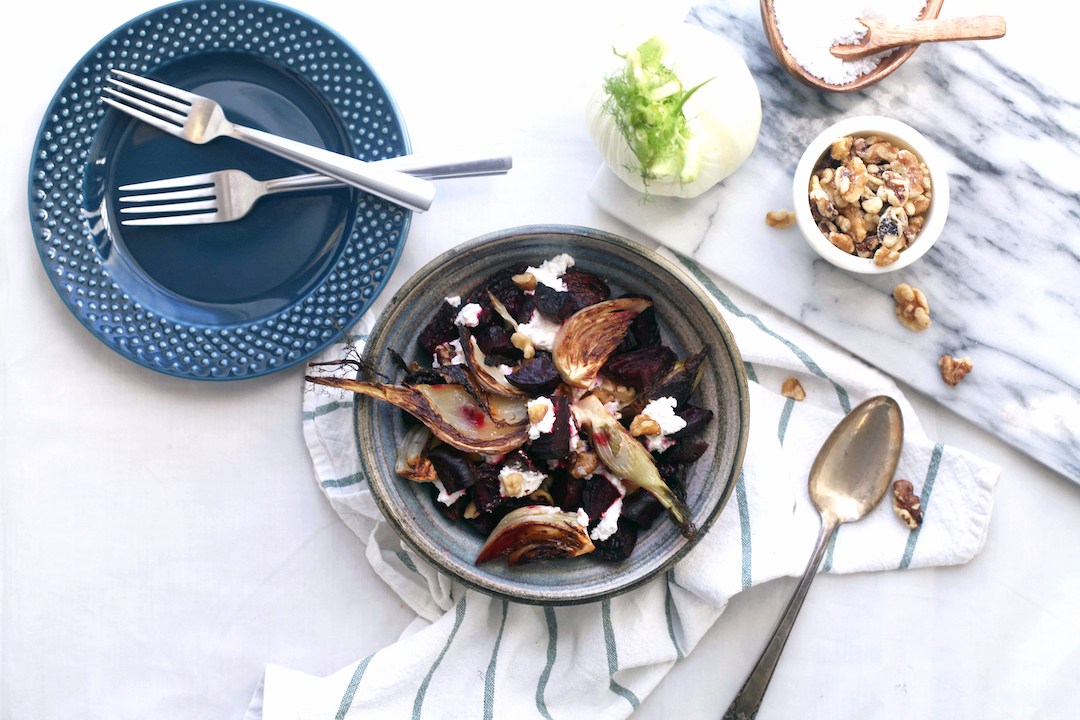 INGREDIENTS
1 large fennel head, chopped into large into large pieces
4-5 large beets, cubed
Olive oil
Sea salt flakes (like Maldon)
Farmer's Cheese (you can also use feta or goat cheese)
Walnuts, chopped into pieces and toasted
INSTRUCTIONS
On a large baking sheet, spread out the fennel and beet in a single layer. Drizzle generously with olive oil and then sprinkle with sea salt. Bake at 400 degrees for about 25-30 minutes, or until the vegetables have turned golden brown and can easily be pricked with a fork.

Remove to a serving dish. Sprinkle with cheese and nuts (and more salt, if desired) and serve immediately.

Store leftovers in an airtight container in the refrigerator.