Provençal Turkey Sheet Pan Dinner
I'm here to rescue you from the depths of midweek dinner despair. I know firsthand what a terrible place that can be, that working-late-half-empty-fridge-no-motivation-to-cook-guess-we'll-just-have-take-out-again place. It's a boring, unhealthy, no good place to be, but I'm here to get you out of it.
Enter the sheet pan dinner. Have you guys heard of this phenomenon?! Because that's truly what it is, a phenomenon. Basically you put all your dinner ingredients (main, side, veggies) on a sheet pan, add some seasonings, bake it and voila. Dinner is served. I mean, honestly, it would take me longer just to look at a menu and decide what I want, let's be real. And can I get three cheers for little-to-no cleanup? Because if you thought the midweek dinner despair was bad, you know the midweek cleanup despair is only going to be even worse. You're welcome for me rescuing you from both.
For this particular sheet pan dinner, I decided to use Shady Brook Farms turkey breast cutlets as the star in a Provençal-themed supper. I chose to use the turkey breast cutlets, as opposed to chicken or pork, because they stay incredibly moist, they don't take long to cook and I actually find them to be more flavorful (I'm convinced it's because they don't use growth-promoting antibiotics). Also, because I kind of have this thing for Shady Brook Farms (which you probably already know if you saw my last post I wrote for them). Also, because who says turkey is only for Thanksgiving? Live a little, people!
To finish off the Provençal sheet pan dinner, I added in allllll the Provençal things, which really isn't as many things as it sounds like, so don't get too worried. Think tomatoes, olives, onions, some herbs, a little olive oil. Provençal cooking is all about being fresh, flavorful, easy and healthy but also about being incredibly simple, which is exactly why I chose it as the flavor palette for this dinner. After all, simple supper is the name of the game here, no?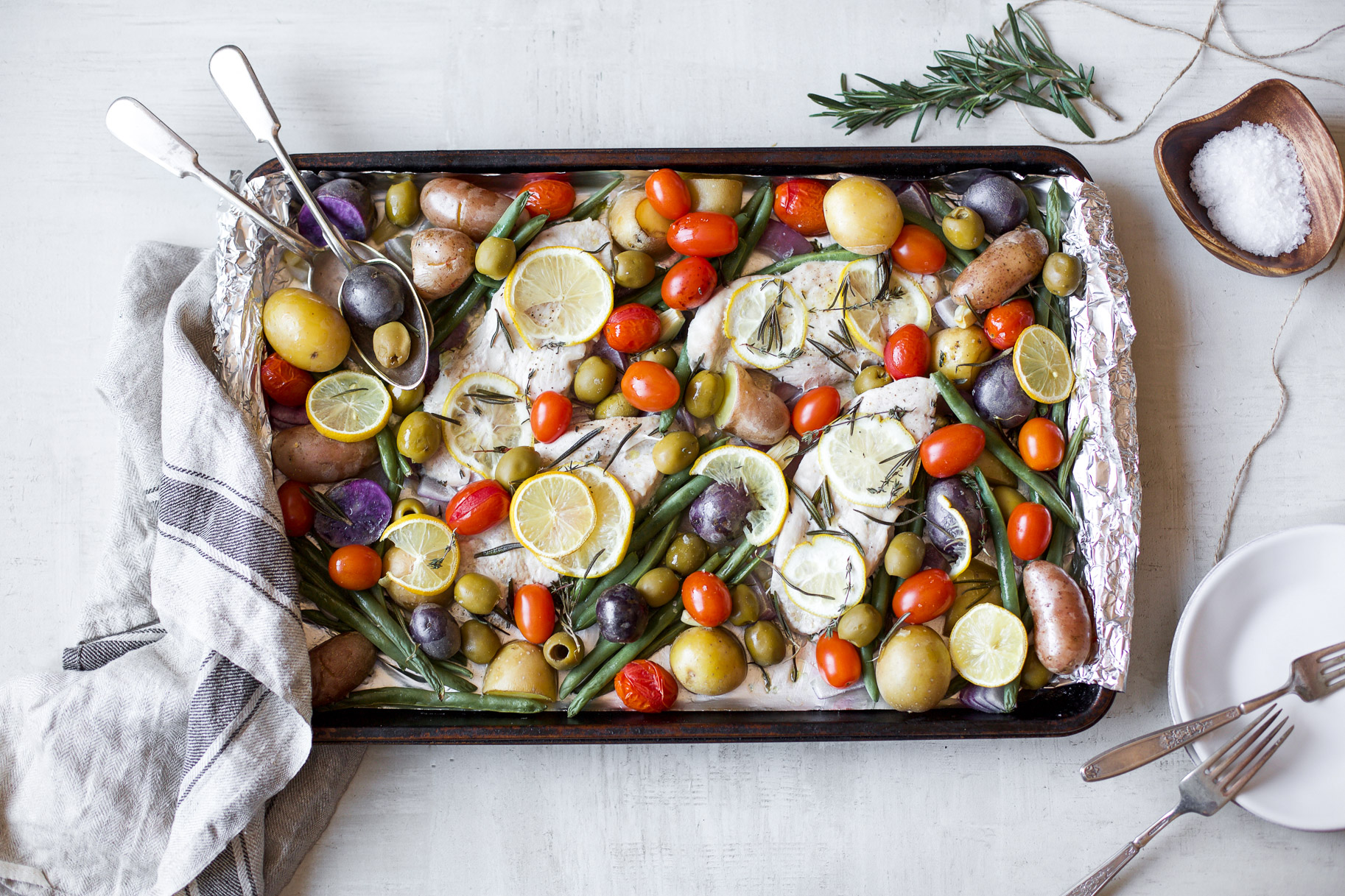 PROVENCAL TURKEY SHEET PAN DINNER
INGREDIENTS
1 large red onion, chopped
3-4 garlic cloves, cut in half
1 ½ pounds fingerling potatoes (cut any larger ones in half)
¾ pound fresh green beans, ends removed
4 Shady Brook Farms turkey breast cutlets
1 lemon, very thinly sliced
12 ounces green olives (pitted)
10 ounces cherry tomatoes
Fresh rosemary and thyme
Olive oil
Salt
INSTRUCTIONS
Preheat oven to 350 degrees. Line a baking sheet with foil. Begin layering on your ingredients. I like to start by creating a bed of onions, garlic, potatoes and green beans, then placing the turkey breast cutlets on top. Add on the lemon slices and sprinkle the tomatoes and olives over everything. Finish with a very heavy drizzling of olive oil and a generous sprinkle of salt as well as plenty of rosemary and thyme.

Bake for 25-30 minutes, or until the turkey is cooked through and the potatoes are tender. Serve immediately. Store leftovers in an airtight container.
Created in partnership with Shady Brook Farms. All opinions are my own.