One-Pot Baked Ziti Recipe
This post brought to you by Redpack Tomatoes. The content and opinions expressed below are that of Runway Chef.
This dish is giving me all the feels. It's cozy, it's comforting, it's delicious, it's easy. I mean, what more could you possibly want from a dinner dish? Besides the obvious extra cheese please! Growing up, spaghetti and meatballs was always a favorite comfort dish, and while it still very much is, it's also fun to switch things up from time to time. Mr.RC is always quick to suggest baked ziti when I'm looking to make something different. I've never been a big fan of baked ziti as I always found it too dry, too mushy, too flavorless or too all-of-the-above. But since I like to keep the Mr. happy, I've been on a constant mission to make one of his favorite dishes in way that doesn't end in a flavorless pile of mush. Coincidentally, this delicious pan of pasta goodness (that ended up being the winning recipe) also happens to be super easy to make, like one-pot, no pre-cooking-the-pasta easy. So how did I take this dish from mush to just-can't-get-enough? A few things- first of all, wine. Lots of wine. The more (that makes it in the pan instead of your mouth) the merrier. And don't worry, I promise the alcohol cooks off leaving behind a tasty flavor and a family-friendly dish. Second- the tomatoes. I used Redpack Tomatoes Paste as well as Redpack Diced Tomatoes Basil, Garlic & Oregano. Their tomatoes are so juicy, delicious and vibrant, you'd swear they came from a garden instead of a can, something that makes a world of difference in the outcome of the recipe. From seed to shelf, Redpack really goes above and beyond to provide a superior product. Not only have they been family owned for four generations, they're also family farmed, working with farmers they personally know to harvest their fields of tomatoes. They're also Non-GMO Project Verified and they use cans that are non-BPA lined, all things that add up to just plain delicious tomatoes. And, of course, call me biased, but I'm always partial to anything raised in the same state that I was (yup, Redpack tomatoes are from good ol' Indiana!). Last, but not least, on the list of things making baked ziti better is ricotta cheese. Stirred in and then dolloped on top, it adds just the right amount of creaminess to the dish, and also helps the pasta to stay moist. Don't even try to deny it...this dish is now giving YOU all the feels, too, isn't it?! I mean, who could expect you to resist this BIG heaping pile of cheesy, gooey, dare I say sinful, pasta goodness? Not I, that's for sure. And certainly not your family and/or friends, who will thank you profusely for years to come if you just make them this one-pot baked ziti goodness.
P.S. If you like tomatoes and pasta and all kinds of other yummy things, make sure to check out Redpack's site for more recipes and inspiration!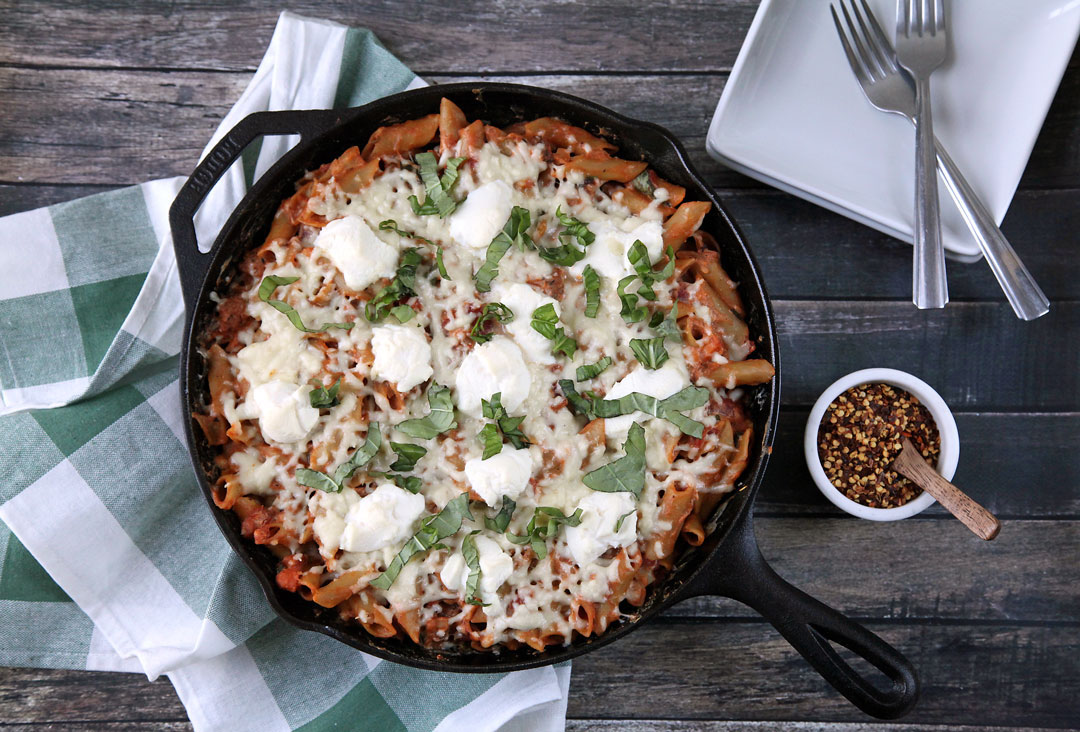 INGREDIENTS
2 tablespoons olive oil
½ a large onion, diced
1 cup diced carrots
1 teaspoon salt
3 large cloves of garlic, minced
1 teaspoon dried rosemary
½ teaspoon red pepper flakes (more or less can be used, depending on how spicy you like your food)
½ pound ground meat (I like to use spicy or sweet pork or chicken sausage or ground turkey, but you can also use ground beef, chicken or pork; for a vegetarian option simply leave the meat out, or feel free to add chopped spinach, kale, zucchini, broccoli or additional carrots)
½ a 6-ounce can of Redpack tomato paste
1 28-ounce can of Redpack Diced tomatoes w/ Basil, Garlic & Oregano or crushed tomatoes
1 cup red wine (I like to use pinot noir, but really any red wine that isn't too sweet will work)
1 1-pound box of ziti (I also love using rigatoni if I'm out of ziti)
2 cups ricotta cheese
2 ½ cups grated mozzarella cheese
¼ grated Parmesan cheese + more for serving
½ cup shredded fresh basil + more for serving
INSTRUCTIONS
In a large cast iron skillet or dutch oven (or other oven and stove proof cooking pan), heat the olive oil for a couple of minutes over a medium-heat burner. Once hot, add in the onion, carrot and salt. If you are using other vegetables instead of meat, you would also want to add those now. Sauté, stirring every few minutes, until the veggies begin to turn golden brown and the onions become translucent, about 12-15 minutes.

Next, mix in the rosemary, red pepper flakes and garlic and cook for 2 more minutes. Then stir in the meat (if you're using it). Keep cooking until the meat has browned and cooked through, making sure to stir every few minutes to keep the meat from clumping together and to ensure that the flavors are evenly dispersed.

Once the meat has finished browning, which should take about 10 minutes, stir in the tomato paste, the diced or crushed tomatoes and the wine. Also, fill up half of the large tomato can with water and add that in as well (I like to measure my water this way as it helps to get any remaining tomatoes bits of flavors out of the can and into the dish, a trick I learned from my Mom. If you prefer, you can measure out about 2 cups of water and add that in.). Stir everything together a few times, then add in the box of pasta and give the dish a few more good stirs, coating the pasta with the liquids. Cover and continue cooking, over medium heat, for about 12-15 minutes, or until the pasta is al dente, making sure to remove the lid and give the pasta a stir every few minutes. If the liquid evaporates faster than the pasta cooks, just add in a little more water or wine.

Once the pasta has finished cooking, remove the pan from the heat. Stir in 1 ½ cups of the ricotta cheese, 1 cup of the mozzarella, the parmesan and the ½ cup of basil. Mix well. Top with the remaining mozzarella and spoonfuls of the remaining ricotta. The cheese will melt on it's own and you can eat it as is, but if you would like it to be a bit more golden brown on top, toss it in a 375 degree oven for about 10 minutes.

Serve with a sprinkle of parmesan and fresh basil. Store leftovers in an airtight container in the refrigerator for up to 5 days.