Kale + Butternut Squash Fall Salad
Tomorrow's the day. You know, the day where we fly to the land of pizza and pasta. Obviously I'm trying to preemptively prepare for all the carbs (which I am not mad about one.single.bit.) by loading up on my veggies. This kale and butternut squash salad was a perfect way to get a hearty helping of healthy nutrients (Say that 10 times fast! Oy vey!) in one seasonally-appropriate, flavor-packed plate. While the season's bounty definitely influenced this dish, I was also inspired by a salad that my uncle always use to bring to family gatherings. It was an uncomplicated combination (just lettuce, pears, feta cheese and walnuts) but it was, and still is, one of my favorite salads. For this version, I simply built off that recipe, adding in a few fall flavors for a hearty main or side dish that will taste delicious all season long.
I'd love to know, what are your favorite fall salad topping?
P.S. For another yummy fall salad, check out this recipe!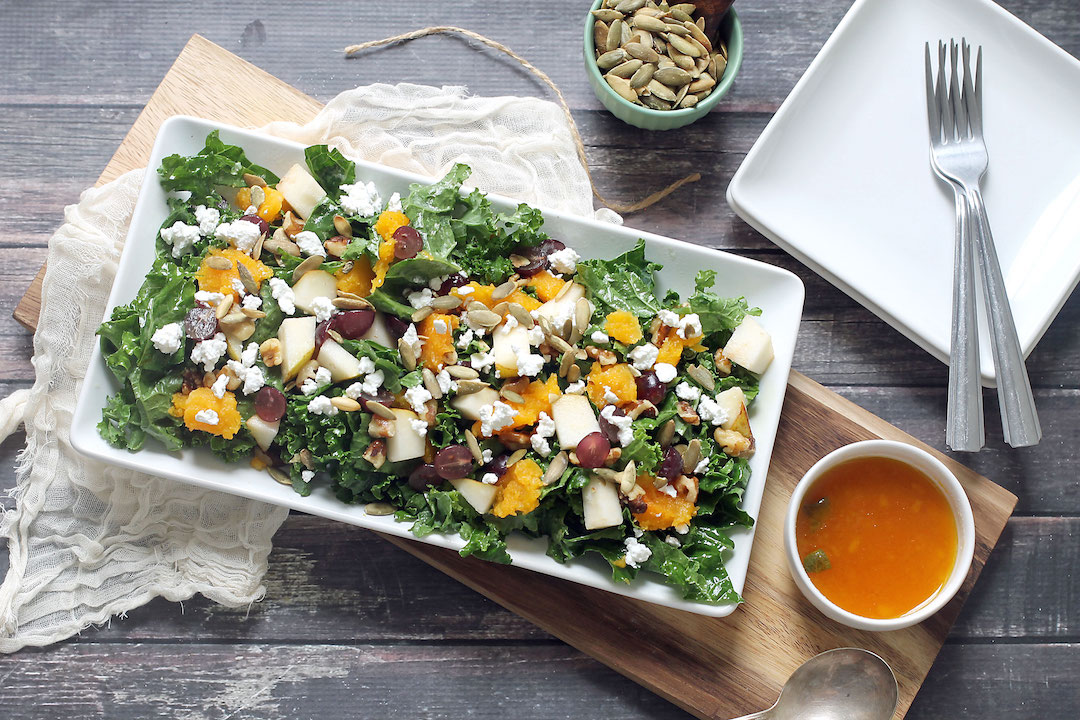 KALE + BUTTERNUT SQUASH SALAD
INGREDIENTS
SALAD
3-4 cups shredded kale
1 cup roasted butternut squash, cut into cubes or broken into pieces
1 pear, chopped (you could also use apple)
1/2 a cup grapes, sliced
1/3 cup walnuts, chopped
1/4 cup roasted pumpkin seeds
1/4 cup feta cheese crumbles
DRESSING
3 tablespoons olive oil
1 1/2 tablespoons apple cider vinegar
1 tablespoon maple syrup
2 teaspoons butternut squash puree or pumpkin puree
INSTRUCTIONS
To make the dressing, add the olive oil, vinegar, maple syrup and squash or pumpkin to a small bowl and whisk together. Alternatively, add the ingredients to a small jar, place the lid on and give it a few good shakes (you can then store any extra dressing right in the jar in the refrigerator). Set aside.

To assemble the salad, place a bed of kale on a serving dish. Top with the remaining ingredients, drizzle with dressing and serve.
NOTES
The ingredients of this salad are completely adjustable. Feel free to add more or less of one particular ingredient, or eliminate it altogether.