Greek Salad
I typically thought of Greek salad as rather blah. With bland produce and a basic dressing, about the only thing the salad had going for it was the feta cheese (Give me all the feta!!). And then, in Santorini, I had the most life-changing Greek salad ever. Literally, my life will never be the same. First and foremost, I learned what a real Greek salad is. Spoiler alert- it's not even a remote third cousin twice removed relative of the bland, mostly lettuce-based Greek salads you'll find here in the US. I know, I know, I'm just as shocked as you that we here in the States would go ahead and ruin another perfectly great European dish. But I digress…
Back to the topic at hand, let's also take a minute for the vegetables who alone would have been life changing. They were literally bursting with juicy flavors unlike any I had ever experienced (even homegrown) and the green pepper (which I'm normally not a fan of) tasted like candy. I have visions of this salad while I eat lunch, or nightly dreams where I'm back in Santorini eating it, and to this day I can still taste the sweet, crisp vegetables, the crunchy bread, and the salty feta all topped off with the slightest hint of oregano. Every time we go to a Greek restaurant, I order one of their salads in the hopes that it will somehow magically be like the one in Santorini, and every time I'm so let down by what they bring out that I just want to send the plate right back where it came from. Naturally, I've informed Mr. RC that the only remedy to this problem is to go back to Santorini so I can get my Greek salad fill (and hoard about 50 pounds of it back on the plane). He had to go and be all practical and suggest I just recreate it at home. So I guess that's what I'm doing here today. Whatever. We all know whose idea is better anyways. And while my version isn't exactly identical to the one in Greece (the vegetables aren't quite up to par in flavor and mine is missing scallions), just the simple swaps of lettuce for homemade croutons and the chunks of feta versus crumbles, among other things, most definitely make this the most life changing Greek Salad you will ever have outside of Greece.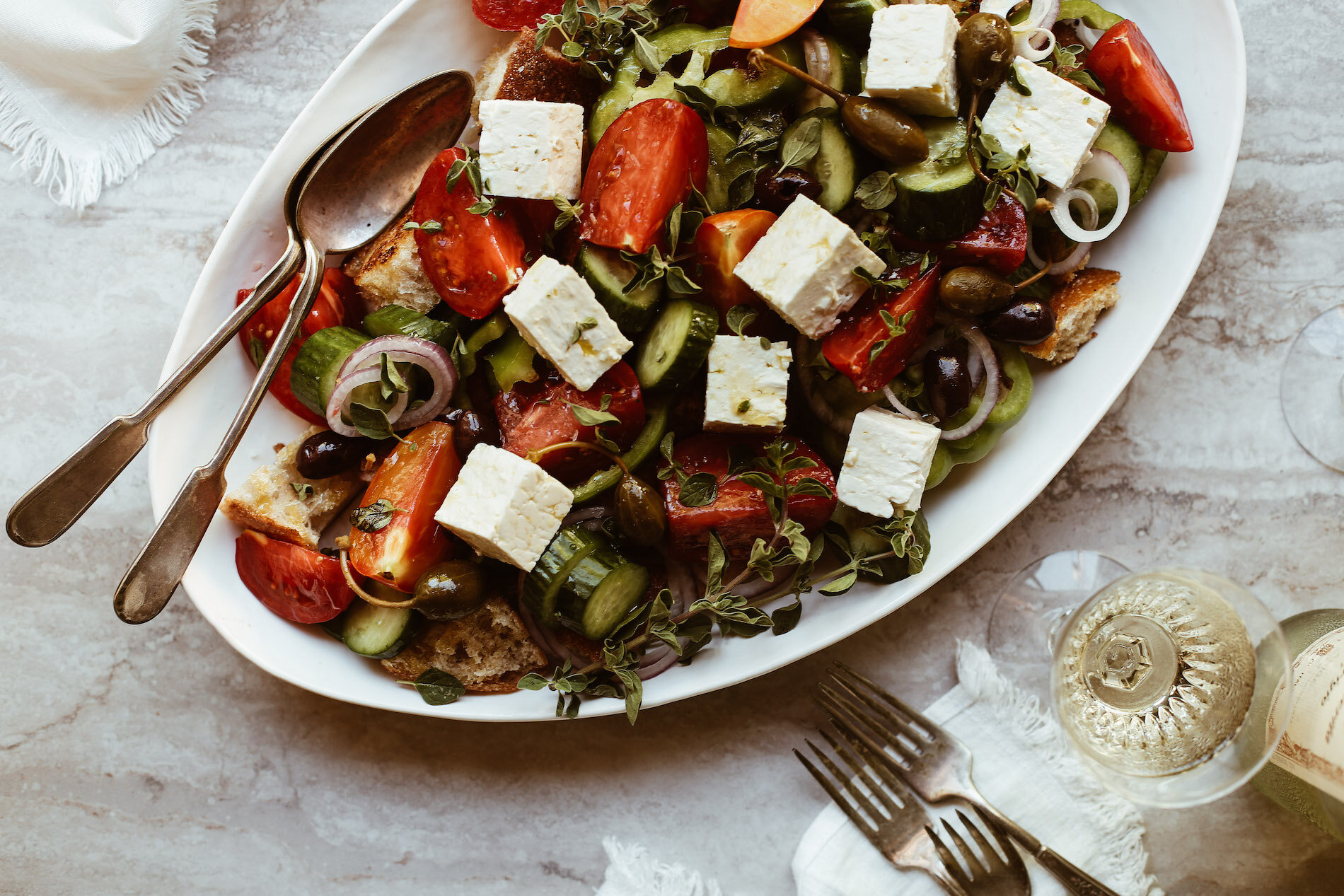 just like they make it in greece
INGREDIENTS
Tomatoes, sliced into wedges

Green pepper

Cucumber

Bread (I like to use a rustic or Italian style)

Kalamata olives

Caper berries (preferably the larger ones)

Feta cheese, cubed

Fresh oregano

Fresh squeezed lemon juice

Olive oil

Salt and pepper
INSTRUCTIONS
First, make the "croutons". I like to use a cast iron skillet, but a regular skillet would work as well. Place the pan on a burner turned to medium heat. Add in some olive oil, and let it heat for a couple minutes before adding the bread. Toss the bread in the oil, and cook for a few minutes, tossing the whole time, until the bread is crispy and golden. Turn the burner off and set the pan aside.

Next, prep and cut the vegetables and cheese. The feta cheese I like to cut into cubes but I also saw it served in thick triangles in Santorini. The peppers and cucumber I cut into thin, matchstick strips that are about 3-4 inches long, or thinly sliced.

To begin assembling the salad, place a generous handful of croutons on the bottom of a large plate. Next, arrange the cucumber and pepper strips on top of the bread. Add on a few tomato slices and pieces of feta. Drizzle the entire plate with olive oil and squeeze on the juice of half a lemon. Finish the salad off with a sprinkle of oregano, salt and pepper.
NOTES
This salad is great as an appetizer, a light lunch, or as a part of a dinner meal. You can also make it a bit heartier by serving it with grilled chicken, lamb or fish.