Cauliflower, Tahini + Grain Bowls
Eating healthy isn't the easiest thing to do, but then again, neither is squeezing into a bikini after one too many pastries. Being in Paris for a week only further intensified my fears of this. Let's face it friends, whether the weather feels like it or not, bikini season is coming in quick.
The Mr. and I have thrown around the idea of doing the popular Whole 30, or, as I like to refer to it, 30 whole days of unfun. We eat super healthy and super clean about 80% of the time, but asking me to give up my carbs and sweets the other 20% of the time is basically like giving me a death sentence (#dramaqueen). Ultimately, we decided the plan didn't make sense for us. However, we did agree that we should probably start taking summer prep seriously, so we've stepped up our clean eating to be about 90%, with only 10% making up for splurges.
One of our recent favorite healthy foods, that's also super easy to make, is cauliflower and grain bowls drizzled with a tahini dressing. I can eat roasted cauliflower like it's candy and I'll drizzle tahini around like it's water, so, while these bowls may be super clean to eat, they taste 100% indulgent and delicious. We legit crave them at least three times a week, which is about how frequently we end up making them. The herbs, grains, and other vegetables found in the bowls can easily be substituted for a variety of things, meaning they never get boring and they never taste bad. Of course, they fit perfectly into the 90% clean eating category of our diet, but I can assure you, they are 100% pure deliciousness.
Are you a fan of veggie & grain bowls? If so, what do you like to put in yours?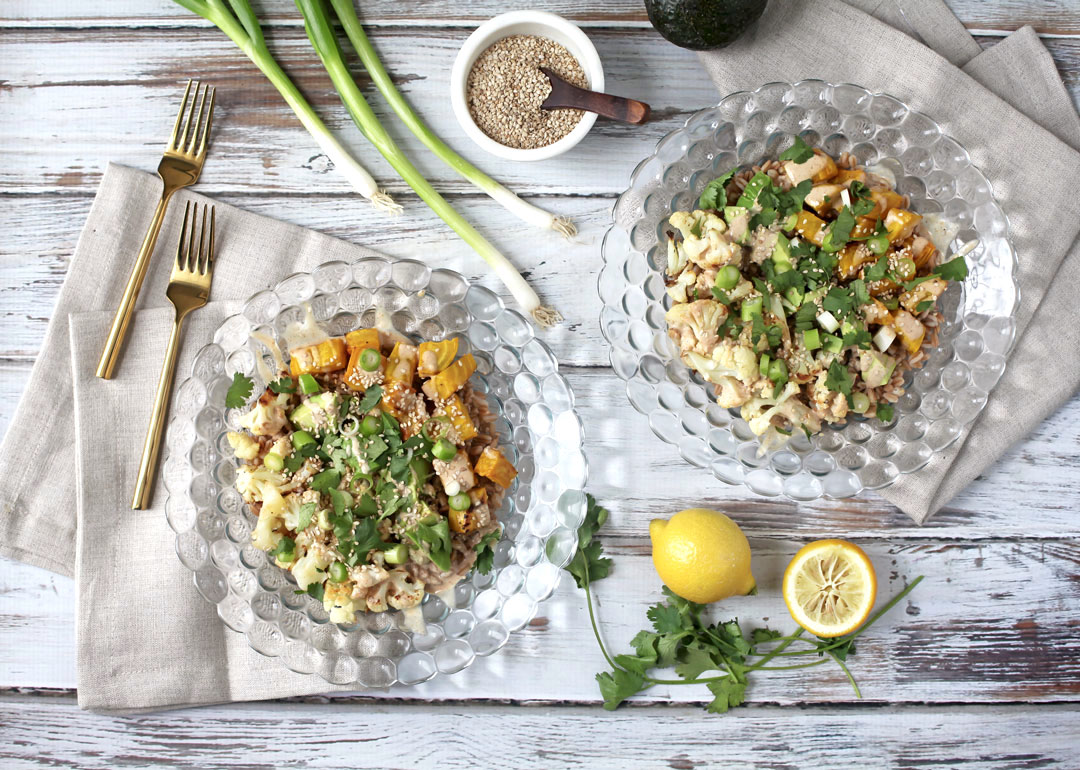 CAULIFLOWER + GRAIN BOWLS WITH TAHINI DRESSING
INGREDIENTS
FOR THE BOWLS

1/2 a large head (or one full small head) of cauliflower, chopped into small pieces

1 large beet or sweet potato, chopped (You can also use carrots, turnips or parsnips)

Olive Oil

Salt

1/2 an avocado, chopped (We also like to use cucumbers,green beans, peas or kale)

1 cup of a cooked grain (farro, barley, couscous, quinoa)

Scallions, finely sliced

Fresh cilantro, parsley, dill or basil, diced

Sesame seeds
TAHINI DRESSING
1/4 cup tahini

1/4 cup + 2 tablespoons water

Juice of 1 lemon

1/2 teaspoon paprika

1 teaspoon of salt (I like to use garlic salt)
INSTRUCTIONS
Preheat oven to 400 degrees. Spread the cauliflower and beets or sweet potatoes in a single layer on an unlined baking sheet. Drizzle generously with olive oil and sprinkle with salt. Roast for 20-30 minutes, or until the vegetables can be pricked with a knife and they are golden brown.

While the vegetables are roasting, make the tahini dressing by whisking together the tahini, water, lemon juice, paprika and salt together, in a small bowl, until everything is smooth. Set aside.

Once the vegetables are done roasting, you can assemble your bowls immediately, or refrigerate the vegetables in an airtight container until you're ready to eat.

To make the bowls, first place 1/2 a cup of a grain on the bottom of each bowl. Top that with the roasted vegetables as well as the avocado (or the green vegetable of your choice). Drizzle with tahini dressing, then finish with a sprinkle with scallions, chopped fresh herbs and sesame seeds.