Curried Carrot Salad
You know those nights where you haven't gone to the grocery store so dinner is a mish-mosh of basically whatever random ingredients are hanging out in your fridge? Yeah, this salad is one of those times. And you know how usually those "let's throw all the leftovers together" things don't taste good? Well, this isn't one of those times (because obviously if it was, I wouldn't be sharing it with you). Now before I go taking all the credit for this colorful concotion, I have to say that Mr.RC is actually the mastermind behind this recipe. I, on the other hand, thought curry, carrots, nuts and feta was just about as strange a combination as you could possibly get. But without many other ingredients in the house (and zero desire to run out to the store) it was either this salad or wine (which I'm not entirely opposed to) for dinner. I hesitantly agreed to give this salad a go, and luckily for Mr. RC this was one of the most delicious things I've had in a while (I literally couldn't stop eating it). As an added bonus it is also super healthy, gluten-free and packed with nutrients (and vegan if you leave off the feta cheese). Looks like I'll have to keep Mr. RC around ;)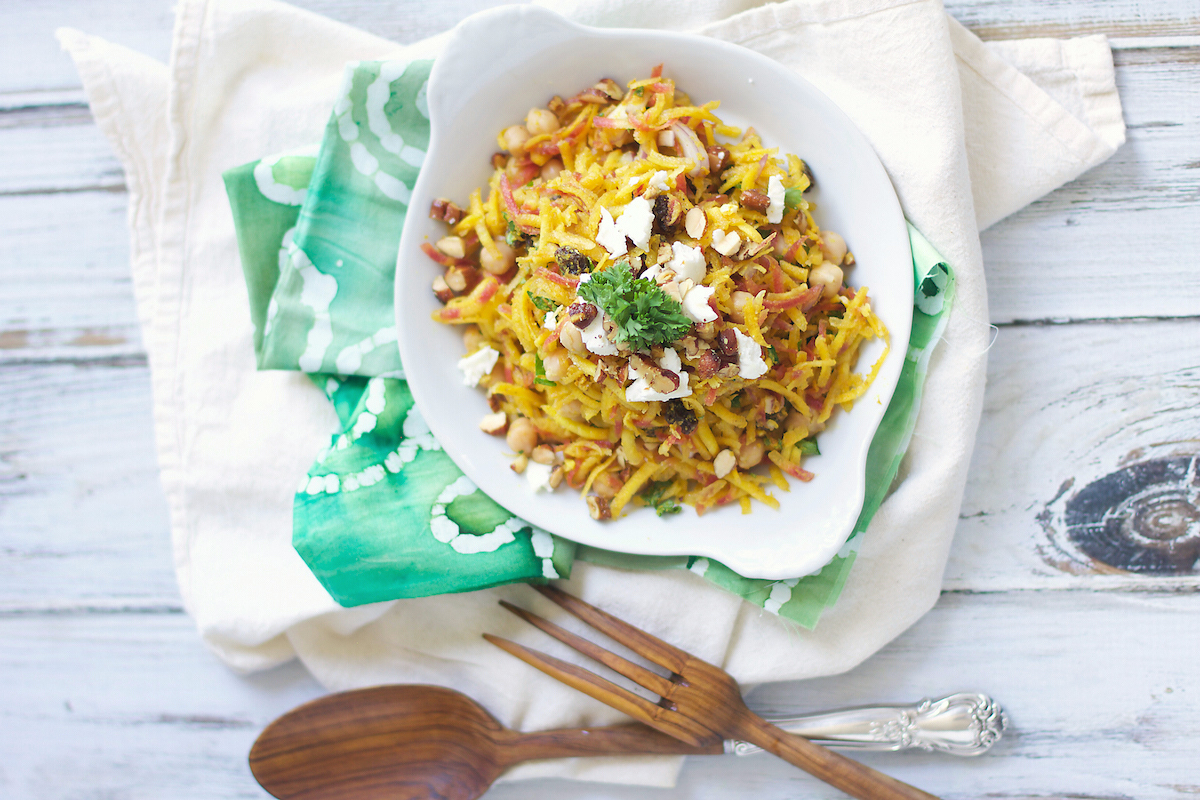 INGREDIENTS
CURRIED CANDIED NUTS
1 tablespoon unsalted butter (if using salted, omit the added salt)

1 tablespoon honey

1/4 teaspoon salt (omit if using salted butter)

1/4 teaspoon curry powder

A large pinch of paprika

1/2 cup nuts (I used pecans and almonds, but feel free to use any variety you choose)
CURRIED VINAIGRETTE
2 tablespoons coconut oil (measure while hard; if it's in liquid form use a 1/4 cup)

2 tablespoons apple cider vinegar

2 tablespoons honey

1 tablespoon curry powder

1/2 teaspoon salt
SALAD
4 large carrots (regular or multicolor), grated (using a grater or cuisinart)

1 15-ounce can of chickpeas, drained

1/2 cup raisins (golden or regular)

1/4 cup parsley, chopped (plus extra for garnish)

1/2 cup red onion, chopped

Feta cheese
INSTRUCTIONS
Start by making the candied nuts. In a small saucepan set over medium heat, melt together the honey, butter, and seasonings. Add in the nuts and stir until they are well coated. Spread on a foil lined baking sheet and bake at 250 degrees for 30-40 minutes. Remove from the oven and set aside to cool.

While the nuts are baking, make the dressing by combining the coconut oil, vinegar, honey, curry powder and salt in a small bowl and whisking together. If the coconut oil is very hard, you may need to melt it down before adding the other ingredients.

To make the salad, toss together the carrots, chickpeas, raisins, parsley, and onion. Add the dressing and stir to distribute it throughout the salad. Right before serving, top with feta cheese, chopped up candied nuts, and extra parsley.
NOTES
Store leftovers in an airtight container for up to 3 days. I would suggest storing leftovers without the nuts as they will get soggy.

This salad is gluten-free, vegetarian, and, if made without the feta or the butter in the candied nuts, vegan.