Buffalo Chicken Poutine
My schedule has been pretty busy, but not so busy that I haven't heard the noise about this Sunday's big event. Maybe you've heard of it, too? It's a yearly thing that includes copious amounts of food, friends and booze. Someone mentioned something to me about there also being a sporting activity involving a ball on the same day. But don't worry guys, I helped straighten the poor, confused soul out, clarifying that the only sporting activity happening Sunday was a marathon of commercials. I can't believe no one had ever told them before ;)
Speaking of, let's talking about fueling up for that marathon, shall we? Hands down, these buffalo chicken wing poutine are the way to go. I'm a classic (boneless, please) buffalo wings girl though and through. But I can never have wings without having fries on the side. I mean, if you're going to indulge, you might as well freakin' indulge, am I right or am I right? Naturally, while brainstorming recipes for the Super Bowl, I thought, why not just combine the buffalo wings and the fries into one of my other favorite dishes, poutine? And that, my friends, is how this epic skillet of fries came to be.
Everything you love about classic wings is right here, piled high on top of ranch-flavored fries and smothered in a hot sauce gravy (because, well, why the F not?!). It also makes plenty for sharing (I know you may not want to, but for the sake of your health, promise me that you will). I know for some the name of the game on Sunday is football or the Super Bowl, but for me, it's this, buffalo chicken wing poutine, right here.
What are your favorite Super Bowl snacks? Do you prefer classic things like wings and nachos, or do you like to switch it up every year?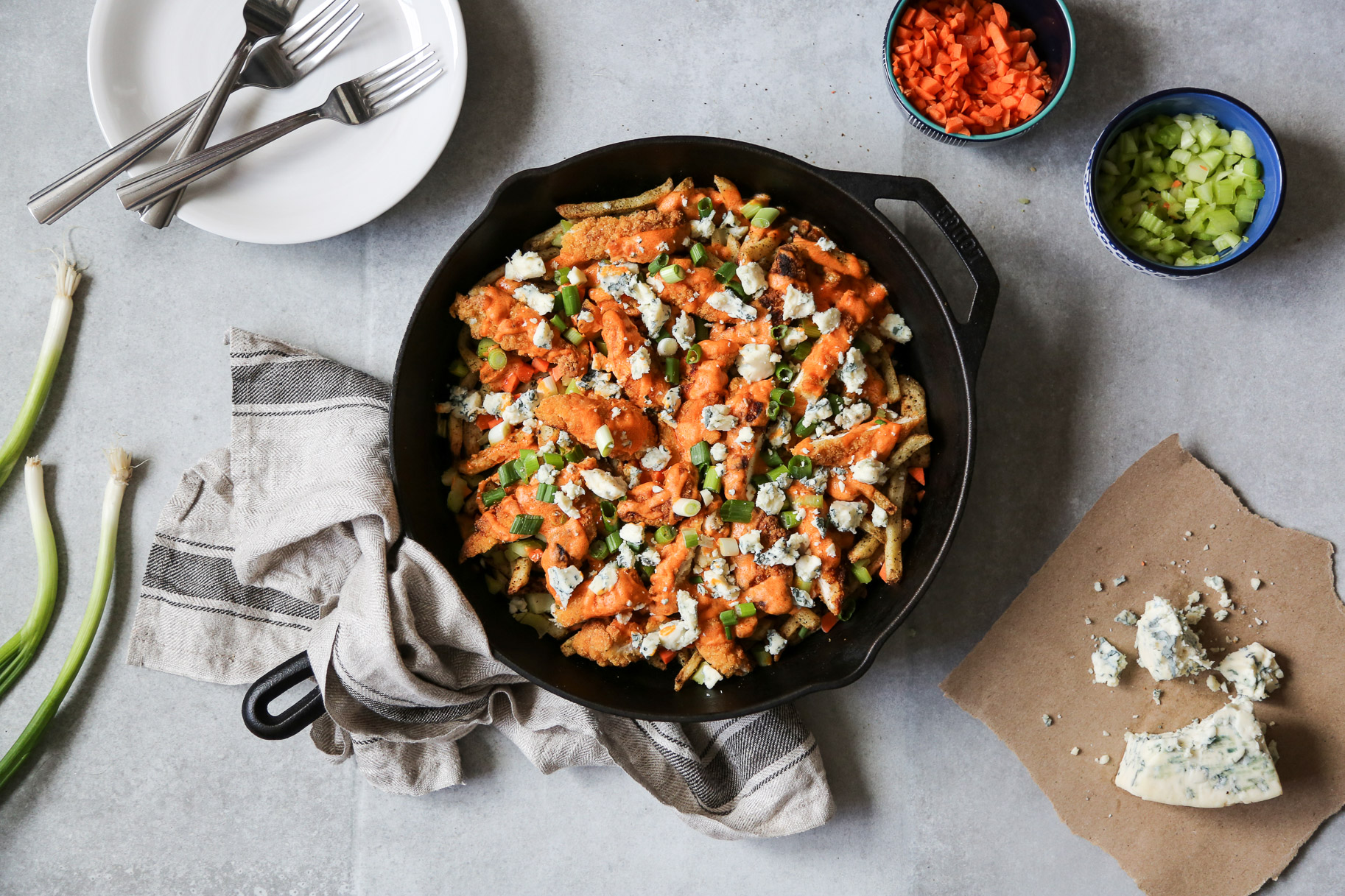 INGREDIENTS
1 1/2 pounds frozen french fries
2 tablespoons ranch seasoning/ranch dressing mix
4-6 breaded chicken strips/tenders
6 tablespoons butter
1/4 cup all-purpose flour
1 cup milk (you can also use chicken broth or beer for a slightly different flavor)
1/2 cup hot sauce
1/2 cup finely chopped carrots
1/2 cup finely chopped celery
3 green onions, sliced
1/2 cup bleu cheese crumbles
INSTRUCTIONS
Preheat oven to 450 degrees.

Toss the french fries with the ranch seasoning (I simply snipped a corner off the french fry bag, added the seasoning and then gave the bag a good shake.). Spread the fries in a single layer on a baking sheet and pop them into the oven. Place the chicken on a separate baking sheet and place that in the oven, as well. Bake for 15 minutes, then give the fries a toss and flip the chicken pieces over. Continue baking another 15-25 minutes, or until everything is well down and super crispy (you especially want the fries to be super crispy so they hold up well to the gravy).

Meanwhile, in a saucepan set over medium heat, melt the butter. Then, gradually whisk in the flour, the milk and lastly, the hot sauce. Immediately remove from the heat and set aside.

To assemble the poutine, place the fries in a skillet (or serving dish of your choice). Toss on the chopped veggies. Next, add on the chicken (which you can cut into smaller pieces first, if you prefer). Pour on the gravy and finish with a sprinkle of bleu cheese. Serve immediately.