Bicerin Recipe
Every time we visit a place, we make it a priority to look up the foods common to the region, and then we set out to try and find them. When we researched foods for Torino, Italy, the list was a long and delicious one, but one thing that stood out to us was a coffee drink called Bicerin. The drink was originally created in the 1700's and the name comes from the Italian word bicchierino, meaning "small glass" (you can read more about the history of the drink here). With layers of espresso, thick chocolate and whipped cream, we knew this was one thing that we couldn't leave Torino without trying. Every afternoon we were there, each café would have dozens of people sitting outside, sipping their bicerins and watching the world go by. While we only got the chance to try it at two locations, we both agreed it was a nice change from the typical coffee or hot chocolate. Without a doubt, we knew we would often be remaking it once we returned home. Of course, it hasn't exactly been a cold, snowy winter (at least here in New York), but it's still the perfect drink to toast with this holiday season.
As I mentioned, Bicerin is traditionally made with espresso. However, if you're like us and don't have an espresso maker, you can also use very strong coffee made with a French Press or, better yet, the Precision Press from KitchenAid. The Precision Press is a French Press developed by KA that gives coffee lovers precise control over every part of the brewing process through the integrated scale and timer. In other words, it is perfect for the bold, full-bodied coffee lover who seeks convenience (Hint, hint: this would make a wonderful gift!). Speaking of coffee-themed gifts, KitchenAid has a few other items that would also be great. Their Pour Over system is wonderful for getting the coffee house experience right at home. Basically, it's the art of pour over coffee that has been automated with just the touch of a button. The results are an easy-to-brew bright, full flavored cup of coffee with a one-touch custom setting. The other wonderful item KitchenAid has is a Siphon Brewer. KA has simplified the science and traditionally complex method of siphon brewing (full immersion vacuum brewing) to an approachable (and entertaining) process for the more dramatic, holiday host to make right at home. The resulting coffee is one that is medium-bodied and complex yet velvety. Whether it's a boss, an office mate, a friend, a foodie, a parent or a host, any of KitchenAid's craft coffee devices would be perfect gifts for both coffee connoisseurs and design-conscious individuals alike.
Now back to the photos and recipe(below) so you can put this wonderful craft coffee equipment to use!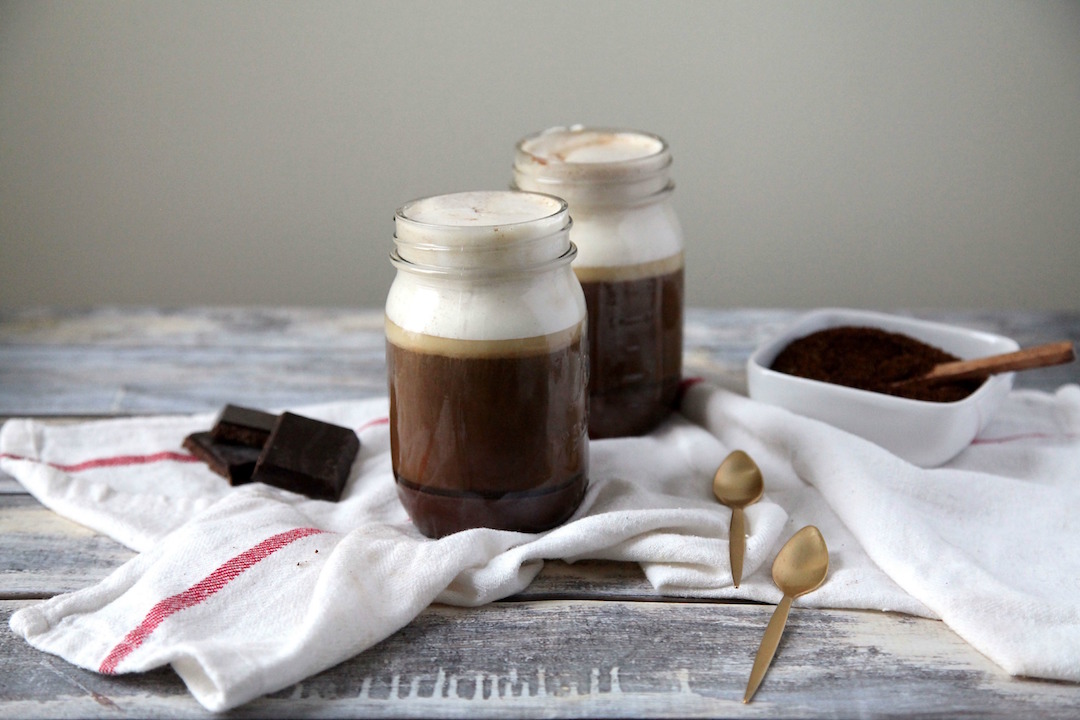 INGREDIENTS
3/4 cup chocolate chips or chopped dark chocolate
1 cup milk
2 shots of espresso (or about 1/4 cup of strong coffee)
1 cup whipped cream
INSTRUCTIONS
In a small saucepan, over low heat, melt the chocolate with the milk. Cook, stirring constantly until the mixture is smooth and thick.

To assemble the bicerin, first divide the chocolate mixture evenly between two clear glasses. Next, pour in the espresso or coffee. To achieve the layered look, simply pour it slowly and gently over the back of a spoon.

Top with whipped cream and serve immediately. For best results, I would suggest gently stirring to combine the chocolate and espresso/coffee together.
Sponsored by Single Edition Media on behalf of KitchenAid